As an MG Rover competition specialist, we have experience with the K-series engine. We have built engines that have taken many race wins, overall class wins and championship wins. We are able to build engines to suit ZR160, ZR170, ZR190, MGF160, MGF170, TF160, TF170, TF190, ZS120, ZS160, ZS170 and ZS180 to compete in the Lancaster Insurance MGOC championship, The MGCC MG Trophy championship, The MGCC Cockshoot Cup, The Peter Best Insurance MG Cup as well as many others. Please enquire for more information.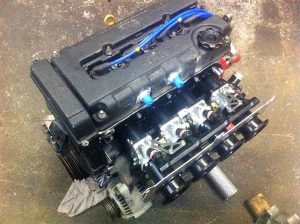 We also have vast experience of many other engines, having built them from standard specification, to high performance competition specification. Here's a few examples of other engines we are able to rebuild for you;-
Mitsubishi EVO 4G63, 4G64
Honda B-series B16 B18
Honda K-series K20 & F-series F20
VW/Audi/Seat/Skoda 1.8 20v turbo BAM APY
Ford Crossflow, CVH and Pinto
Ford Zetec
Rover T-series T16 220 420 620 820
MG Rover K-series K16 1.4 1.6 1.8 solid cam & VVC
Subaru Impreza EJ20 EJ25
Toyota Celica MR2 3SGE 3SGTE
We have worked with performance parts manufactured by the likes of Eagle, CP, Arias, Pauter, Manley, JE, Wossner, PEC, Cosworth, HKS, GRreddy, Piper, Accralite, Arrow, ARP, Wiseco, Superclutch, Exedy, Quaife and many more. We can also supply any parts you require at  competitive prices.